The prison ordeal of Paul Biya's Opponents…Jean Bruno Tagne
The prison ordeal of Paul Biya's Opponents…Jean Bruno Tagne
Testimonies
 About 100 activists from the Movement for the Renaissance of Cameroon ( 
MRC
 ), who had been arrested before and after peaceful protests in September 2020, are still incarcerated in prisons in Yaoundé, Douala and Bafoussam. Judged and condemned by the military court, sometimes tortured, they languish in infamous jails and in general indifference.
Jeanne Edith Bibou Nissack has less to worry about for her husband imprisoned in the central prison of Kondengui, in Yaoundé, than for their two children. This sunny morning in June 2022, one of them is the victim of an attack of malaria while the other has to fight against a strong flu which makes him suffer. Since September 22, 2020, she has learned to raise her children on her own. That day, her husband, Olivier Bibou Nissack, spokesperson for Maurice Kamto, president of the Movement for the Renaissance of Cameroon ( MRC ), was arrested – or rather "  kidnapped by the police  " , corrects his wife. "  In a rule of law, there are ways to challenge people when we have things to reproach them for. Olivier was abducted from his home " , she denounces.
On September 22, 2020, the MRC , the main opposition party in Cameroon, calls for peaceful demonstrations in all cities of the country. The movement of Maurice Kamto, who came second in the presidential election of October 7, 2018, the results of which he still contests, demands among other things the peaceful resolution of the socio-political crisis in the English-speaking regions of the North-West and South-West, the revision of the electoral system in order to guarantee free and transparent elections, or the audit of the funds spent in the preparation of the African Cup of Nations ( CAN ), which finally took place in early 2022. The MRCalso intends to oppose what many Cameroonians call the " over the  counter  " at the top of the state, that is to say the dynastic transmission of power. Paul Biya is suspected by part of the opposition of wanting to hand over to his son Franck, after forty years of reign .
The call to demonstrate is followed in several cities (Yaoundé, Douala, Bafoussam, Bafang, Dschang, etc.) despite the dissuasive presence of police and gendarmerie forces. Olivier Bibou Nissack, he will not have the opportunity to join his comrades in the various processions in the city of Yaoundé. From the early hours of the morning and as had already been the case a week earlier, his residence was cordoned off by a detachment of armed police. Commissioner Simon Mendouga, who leads the troops, makes believe in an invitation made to Olivier Bibou Nissack by the boss of the police. Maurice Kamto's spokesperson sees no inconvenience and agrees to defer to this "  invitation  ". It's a subterfuge.
Olivier Bibou Nissack is embedded in the maze of the police, then the gendarmerie. After several days in police custody, he was imprisoned in Kondengui central prison. There he finds his party comrades, some of whom were arrested in practically the same conditions. This is the case of Alain Fogue, the treasurer of the MRC , of ​​which he is one of the founders. A teacher of international relations and strategy at the University of Yaoundé II , in Soa, and at the Yaoundé War School, he is a pillar of the party, and his imprisonment is a blow to Maurice Kamto, of whom he is very close.
AN EXCEPTIONAL JURISDICTION
A total of 104 activists are imprisoned in the central prison of Kondengui, in that of New-Bell, in Douala, and in Bafoussam, in the West region. Maurice Kamto is certainly not arrested, but he is placed under house arrest at his home from September 21, 2020. He will not set foot outside his home until December 8, after dozens of police and of gendarmes who guarded his house night and day had left the place.
Those arrested are accused of revolution, rebellion, assembly and lack of national identity card. They are prosecuted before the military courts of Yaoundé, Douala and Bafoussam. The prosecution brandishes the law of July 12, 2017 on the Code of Military Justice, in particular its article 8-C, which provides that the military court is competent for "  offences relating to acts of terrorism  " and cases of violation of "  state security  " . " It is therefore considered in this country that the fact for politicians to organize a peaceful demonstration is an act comparable to terrorism or an attack on the security of the State. This is why our clients have been prosecuted before the military tribunal  " , denounces one of the defendants' lawyers, M e Sother Menkem.
Mr. Henri Kouokam considers that the military court is incompetent. He adds that the choice of a court with special jurisdiction in this case is flawed in more ways than one: "  There is no guarantee as to the independence of the judge, the soldier being subject to his hierarchy. The military have brutal and expeditious methods. They do not always respect the basic rights of litigants, for example access to the case file.  In the absence of their lawyers, MRC activistswill be sentenced on the night of December 27 to 28, 2021 to sentences ranging from two to seven years in prison. The military tribunal had a particularly heavy hand with the main party executives, including Alain Fogue, Olivier Bibou Nissack, Pascal Zamboue and Awasum Mispa Fri, who all received a seven-year prison sentence. They risked life imprisonment, according to article 114 of the Cameroonian Penal Code1.
" 
THE TRIUMPH OF ARBITRARINESS 
"
Another MRC lawyer , M e Hyppolite Meli, denounces a "  political trial  " while Ms Bibou Nissack  speaks of a travesty of justice against the backdrop of settling scores. "  My husband , she regrets, is in prison because we don't support his political opinions. We can't stand his outspokenness. We can't stand his loyalty to his leader. We can't stand him being incorruptible in a country where we buy everything and everyone. That's why Olivier is in prison.  »
For journalist and political science researcher Jules Domche, the conviction of MRC activists by the military court is part of an attempt to decapitate this party, the only one, according to him, which represents a serious alternative to the Biya dynasty. "  In the past, we carried out political assassinations , he notes. This was the case in the 1950s. Today, the power of Yaoundé uses justice to put its most formidable adversary out of play. Otherwise, how can we understand that we can prosecute political leaders before a military tribunal for a simple demonstration as we see in all democracies  ?  Protest , he adds, " during which there was no act of violence or vandalism  " . According to him, " it is the triumph of arbitrariness ".  
The national president of the MRC did not respond to our request for an interview. In May, he gave an interview to the Vox Africa television channel in which he affirmed that the government's objective was to break up his party. It revealed that a debate had taken place within the regime between supporters of a hard line favorable to the pure and simple dissolution of the MRC , and another current which proposed to dismantle it by neutralizing some of its executives and thus to force Maurice Kamto and his comrades to focus most of their energy on securing their release. "  But we are quite solid as a political party ," he tried to reassure.Believe me, the party is moving forward. You will be amazed: we are doing even better today than before the 2018 presidential election  .
A week before the marches of September 22, 2020, the MRC had made public a document entitled "  The code of the peaceful, patriotic and republican walker  ", and signed by its president. This two-page text first specified that the planned march was in accordance with the Constitution and international agreements and treaties to which Cameroon is a party. Then, he laid down a few rules to observe to avoid putting himself at odds with the authorities: "  Be disciplined  ; not carry any weapon of any kind, nor any sharp or pointed object  ; don't attack anyone ; do not respond to the provocations of infiltrated militiamen of the regime, identify them and refer them to the coordinator of your group, it is up to him to hand them over to the police  ; not to destroy any property, either public or private  ; do not attack law enforcement forces  ; never forget that the struggle is to save the country and not to destroy it,  " the document read.
PROMISCUITY, CORRUPTION, VIOLENCE
On April 13, 2022, the collective formed for the defense of MRC prisoners announced its return to the courtrooms, after observing a strike aimed at protesting against the violations of the rights of the defense within the framework of this procedure. Maurice Kamto, a lawyer by profession, indicated in the process that he would himself defend his comrades. The collective of lawyers appealed against the conviction of the 104 activists.
In the central prison of Kondengui where they are incarcerated, the prisoners of the MRC keep their spirits up. Alain Fogue, unrecognizable with his mop of hair and his graying beard, has lost none of his good nature. Olivier Bibou Nissack, meanwhile, remains calm despite difficult detention conditions in an old prison built in the late 1960s for 1,000 prisoners and which today has nearly 4,000, according to the official count of the penitentiary Administration.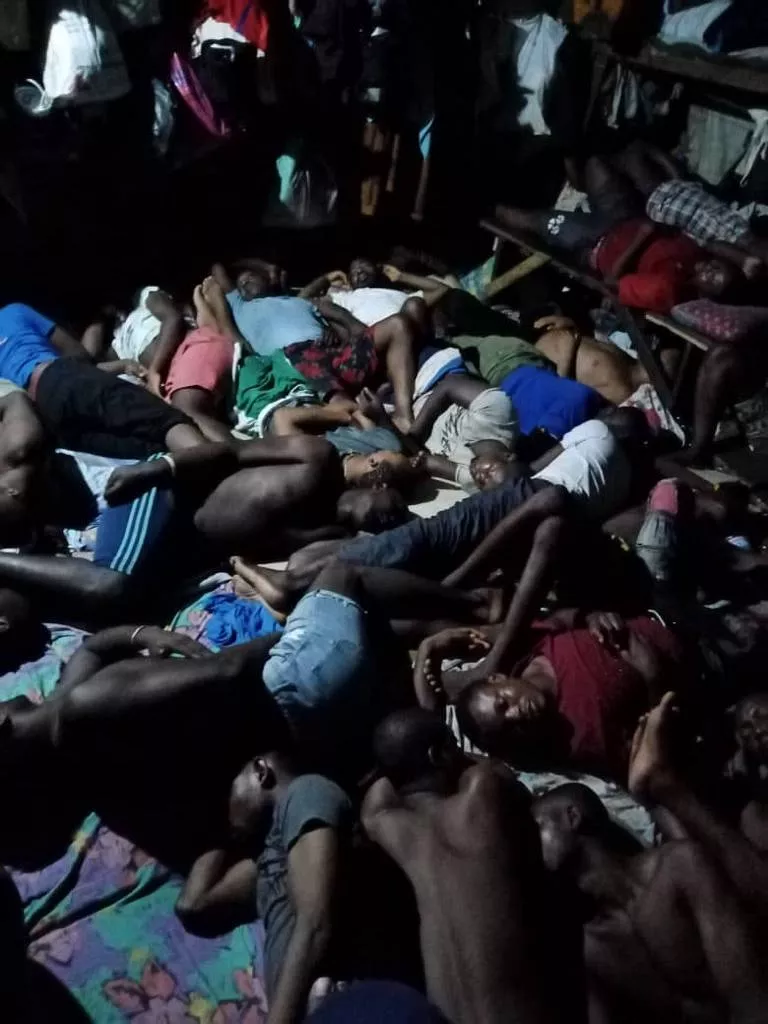 Promiscuity, corruption, violence and various trafficking are common in Kondengui. "  If courage were sold, I think all the MRC fighters imprisoned in Kondengui would become very rich. They have iron morale. They know they have done nothing wrong, that they are in prison simply for wanting to liberate this country from a savage dictatorship,  " says political activist Sébastien Ebala, an MRC sympathizer.released on June 27, 2022 after spending two years in Kondengui. At the time, he made a video in which he invited Cameroonians to take to the streets en masse to demand the departure of Paul Biya. He had been brutally arrested, then tortured in the premises of Military Security (Sémil), in Yaoundé, before being imprisoned (read the box at the bottom of this article) .
On the side of Douala, at the New-Bell prison, the conditions of detention are even harsher. Built in 1902 for 800 prisoners, it officially has more than 5,000 residents crammed into makeshift cells. Misery and insalubrity are the ordinary of the prisoners. The MRC recently buried one of its activists, Rodrigue Dagueho, who died in this prison after contracting cholera. The other imprisoned activists now live haunted by the memory of their late comrade, buried on June 19, 2022 in Mbouda, in the West region.
" 
WHAT MORE IS NEEDED FOR OUR CASE TO MOBILIZE ATTENTION 
? 
»
From the bottom of their prison, some activists regret that their cause does not mobilize many people, neither in Cameroon nor abroad. "  However, these are not the reasons for indignation that are lacking in our case. Not only were we tortured during our arrest, but we were also tried by a military tribunal and sentenced in the absence of our lawyers. What more is needed for our case to mobilize the attention of the world  ?  " , laments, on condition of anonymity, an activist sentenced to three years in prison in New-Bell prison.
A misunderstanding shared by Jeanne Edith Bibou Nissack. "  What I find revolting , she gets carried away, is that the majority of Cameroonians seem to take pleasure in this injustice, in this arbitrariness. Even more serious is the international community: how can it be a spectator of this oppression  ? International organizations for the defense of human rights and freedoms must assume their responsibilities. It is time to play fair with Africans. Not just with Cameroonians. Their silence is complicit  !  »
Many had thought that the appointment of Éric Dupond-Moretti as Minister of Justice in France, in July 2020, would help advance the cause of MRC activists . In March 2019, the famous criminal lawyer landed in Cameroon to defend Maurice Kamto, then imprisoned in Kondengui, Yaoundé, alongside other executives of his party. The French lawyer had already dealt with Cameroonian justice years earlier, when he had defended the Franco-Cameroonian Thierry Michel Atangana2.
MACRON'S " 
MAXIMUM 
" AND THE NOTES OF THE 
DGSI
Maurice Kamto was released on October 5, 2019 after Emmanuel Macron's intervention with the Cameroonian authorities. A pressure that the French president had himself confirmed on February 22, 2020, when he was arrested at the Agricultural Show by a Cameroonian activist, Abdoulaye Thiam, nicknamed "  Calibri Calibro  " (see the video below) . "  You know my commitment to this subject ," Macron retorted. I put pressure on Paul Biya to first deal with the subject of the English-speaking area and its opponents. I said: "I don't want to see each other in Lyon3until Kamto is released." And he was released because we put pressure on him. There, the situation is deteriorating. I will call President Biya next week and we will put the maximum pressure so that this situation ends. I am totally aware and totally involved in the violence that is happening in Cameroon and which is intolerable. I'm doing the maximum.  »
Beyond the fine speeches, the actions demonstrate the embarrassment of Paris on this subject. Mediapart revealed that the General Directorate of Internal Security ( DGSI ) intervened in 2021 in order to prevent Abdoulaye Thiam, exiled in France since 2016, from obtaining refugee status, on the grounds that this " would  constitute a risk [.. .] for the political and diplomatic interests of France  " .
On June 8, 2022, Emmanuel Macron was once again apostrophized on the subject, during a visit to the Paris region, by an activist from Kamto's party. The scene was filmed and widely relayed on social networks in Cameroon. This time, the president played the card of caution. "  I do not interfere in the affairs of Cameroonians , he retorted. But we are everywhere in Africa for democracies to work, for alternations to work and for there to be democratic procedures. I have already said this to President Biya as well. Today it must open up the democratic game. I had this discussion with him.  »
The MRC activists are convinced of this: their salvation will not come from a Cameroonian justice "  under orders  ", but from strong pressure from France and the international community. Which, for the moment, remains locked in a resounding silence.
Jeanne Edith Bibou Nissack does not despair, however. She continues to believe in the release of her husband and the other prisoners. To this end , it carries out actions with the "  Free Bibou Nissack  " movement, which it created for this purpose. The objective, she explains, is also to denounce all the abuses of which Cameroonians are victims.
SÉBASTIEN EBALA: " 
I SURVIVED THE TORTURE 
"
Since his release from prison on May 27, 2022, the story of the abuse suffered by Sébastien Ebala has been chilling. It has become the symbol of political repression and torture of activists or militants in police and gendarmerie cells in Cameroon. After his release, Ebala did not wallow in silence. He had the courage to recount his ordeal and to give a name to his executioners with the crudest words: "  criminals, bandits  " .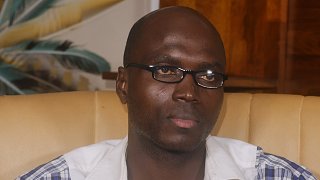 It all starts on April 16, 2020. Night has fallen on the city of Yaoundé. Sébastien Ebala and two other companions, Paul Daisy Biya (no relation to President Paul Biya) and Bernard Tchebo, meet at a place called Poste centrale, in the heart of the capital. They make a short video in this poorly lit place and a din of car horns. In this video that has gone viral on social networks, Sébastien Ebala calls on Cameroonians to massively join this place on April 18, 2020 to demand the departure of the President of the Republic of Cameroon. For him, Paul Biya, 87 years old at the time, in power since 1982 and officially declared the winner of the presidential election of October 7, 2018 with 71 % of the votes, did not win this election. He believes that the winner is Maurice Kamto, who has always claimed his victory.
After this bravado, Sébastien Ebala returns home and broadcasts the video. He does not know at this time that he has just enraged the authorities, who decide to put the hook on him.
" 
THEY WERE LIKE DRUG ADDICTS 
"
On April 17, Sébastien Ebala and his two companions are in the residence of Bernard Tchebo, in the Mballa  II district , in Yaoundé. At the end of the day, the house is surrounded by armed and hooded individuals in civilian clothes. They break into the house. Panicked, the three companions go up to hide in the ceiling. They are finally found. "  They were incredibly brutal, like drug addicts ," says Ebala. They ransacked everything in the house and beat us savagely while threatening us with their weapons. I was their main target. I received blows on the head, I had the split brow bone. I walked out of that house with blood all over my clothes.  »
Until then, Sébastien Ebala and his comrades do not know who these men are. "  I was convinced that we were dealing with bandits. Such barbarity could not be the act of officials of the gendarmerie. I don't see what interest they had in messing me up like this, ransacking my friend Tchebo's whole house, destroying the furniture, shredding the sofas… It's the behavior of thugs and not of people trained to do a job ,  " he said.
It was only when they were taken to the premises of the State Secretariat for Defense in charge of the Gendarmerie that they realized that their executioners were in fact gendarmes on a mission.
Ebala and his companions are entrusted to the boss of Military Security (Sémil), Colonel Joël Émile Bamkoui. "  Once again I am beaten, manhandled, humiliated , he says.Bamkoui is himself at the maneuver. His goal is to make me say that it was Professor Maurice Kamto who encouraged me to call for the departure of Paul Biya. But that was not the case. I was taken to a place called "the lab". This is the place where people are tortured. I was stretched out on a cross, sprinkled with water and beaten for a long time with a machete. As I continued to deny having been sent by Professor Kamto, Bamkoui and his men took a broomstick. They did what they call the swing. I was hooked and they beat me on the soles of my feet for a long time. It was horrible. With his foot on my chest as I was nearly dying, Bamkoui even went so far as to tell me he could kill me in his cells and report that the operation had gone wrong.  »
All these accusations are disputed by Colonel Joël Émile Bamkoui, for whom Ebala is only a "  stagger  " . He threatens to file a complaint against him. But the accusations of torture against the boss of Sémil do not date from today. On September 20, 2021, the philosopher Fridolin Nke, a teacher at the University of Yaoundé I, was abducted by individuals in civilian clothes who took him manu militari to the premises of the State Secretariat for Defense in charge of the Gendarmerie. The academic says he was beaten and threatened by Colonel Joël Émile Bamkoui. Photos of his bruised face and swollen eyes have gone viral on social media.
KONDENGUI AS A RELIEF
After several days in police custody, Paul Daisy Biya was released without any form of trial while his comrades Sébastien Ebala and Bernard Tchebo were placed under a warrant and imprisoned on May 27, 2020 in Kondengui central prison. "  I was presented to a military magistrate ," says Ebala. I was being prosecuted for insulting a president of a political party, cybercrime, aggravated spreading of false news. When I entered his office, I still bore the scars of torture. He refused to see me, ordering me to be treated. My head was bandaged like a mummy. My lawyer, Mr.Emmanuel Simh, is a witness. We were together. Kondengui prison is a place of death, but I felt alive when I got there. The real place of death are the cells of the Sémil. I really thought they were going to kill me there.  »
After two years of detention, Sébastien Ebala was released on May 27, 2022. Since then, in the most total destitution, he has been trying to rebuild himself. He finds comfort in his partner and their two children. He does not hide his resentment. He has not forgotten anything of what he suffered the day of his arrest. "  I hate it, he gets angry. A visceral hatred against Bamkoui and all those who shed my blood. I now only live in the hope that one day he will pay for all the harm he has done to me and to other Cameroonians.  »
Supported by human rights organizations , Sébastien Ebala plans to file a complaint before the Cameroonian and international courts for torture.