How to Make Crispy Bacon at Home Fast?
How to Make Crispy Bacon at Home Fast?
Today I'm showing you how to make crispy homemade bacon… …and without having to clean everything afterwards! It's actually quite easy… provided you know the right trick! Otherwise you risk ending up with grease all over the hob , but also on the splashback . Hello the hassle to clean everything! Not to mention that the bacon is not grilled properly! Luckily, there's a simple trick to cooking bacon to perfection with no cleanup. It was an American friend who gave me the trick. Since I've been using it, we've had very crispy bacon… And no need to clean everything up afterwards! The secret is to cook the bacon in the oven on baking paper . Look at the recipe: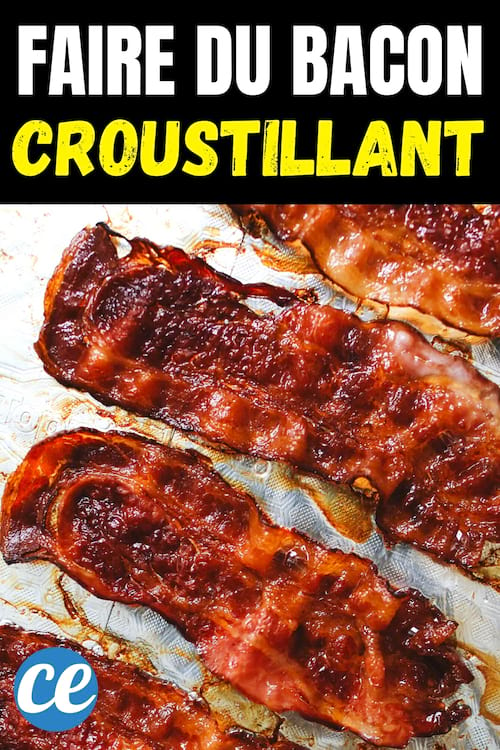 What you need – slices of bacon – baking paper – oven How to do 1. Preheat the oven to 200°C. 2. Put baking paper on the baking sheet. 3. Add the bacon slices to the baking paper. 4. Make sure the slices do not touch each other. 5. Put the plate in the oven. 6. Cook for 15 minutes until the bacon is crispy. 7. Take out of the oven and serve.
Results

And there you have it, you've made crispy bacon without messing up the kitchen 🙂 Easy, fast and effective, right? And of course, this trick works for bacon long or round. I don't know about you, but I love bacon and even more its smell! It is a versatile food that goes just as well for breakfast with eggs , as for lunch with a salad or for dinner with casseroled eggs … Or in a good BLT sandwich .
Did you know that you can also cook your bacon in a waffle iron? It's surprising, but it works ! The greediest also serve it with a drizzle of maple syrup ! A sweet and savory treat that is very easy to make. Just drizzle it with maple syrup when the bacon comes out of the oven, just before serving.
Why Bake Bacon?
Baking bacon in the oven has a number of advantages over pan-frying. Since I'm always doing a thousand things at the same time (especially if I'm cooking brunch), I don't have time to watch the bacon in the pan while juggling eggs, beans, toast, tea, coffee… you know the kind. Hence the interest of baking it in the oven! Just put the dish in the oven… then take it out.
And that's about it. There's no need to be extra careful, which is perfect when you're cooking a lot of things at the same time. In the end, it's still very good! And icing on the cake, there is no projection of grease everywhere like when you cook bacon in a frying pan.