A CAMEROONIAN CAUGHT WITH A FAKE PHD DOCTORATE OFFICIATING IN A UNIVERSITY IN CONGO
A CAMEROONIAN CAUGHT WITH A FAKE PHD DOCTORATE OFFICIATING IN A UNIVERSITY IN CONGO
– This is Bit Jik Moise Socrate
– He was officiating in a University in Congo
– Vil was caught
It is a rocky affair that is currently shaking the web and covers the Cameroonian opinion with shame. Indeed, a Cameroonian national was arrested in Congo for forgery and use of forgery. The latter held a doctorate that was not a doctorate. He was teaching in a university before the case came to light.
"A Cameroonian by the name of Bit Jik Moise Socrate was recruited in a university in the Democratic Republic of Congo with a false doctorate. Indeed, the unfortunate man born in Eseka in Cameroon on January 10, 1982 taught at the Marist University of Congo for several years posing as a professor with a false doctorate degree which in reality is a usurpation since the said doctorate belongs in fact to a Tunisian named Abderrazack Mkadi born August 7, 1972 in Thala in Tunisia, "reveals Jorel Jacques Zang who also passed the note of the University.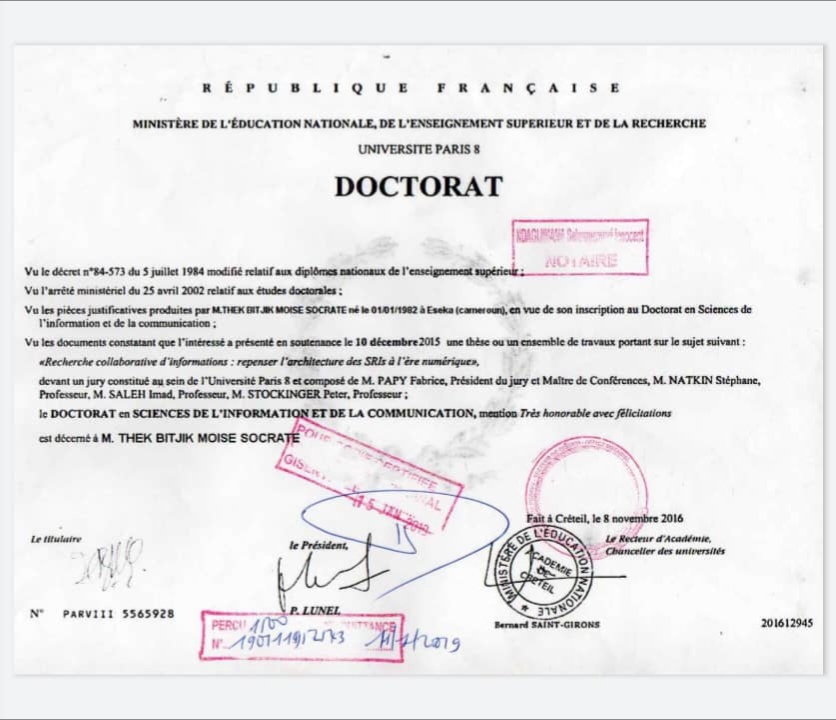 "The Congolese university authorities who tax this compatriot to be a citizen of "one of the countries holding the world palm of corruption" have from the outset initiated legal proceedings against the concerned which according to them has caused unimaginable damage on the education of youth, "he commented.
This is the legacy of Cameroon under the renewal: forgery, moral corruption and corruption, cheating theft …. and so on. This is how Cameroon stands out internationally: negatively and with such a childish behavior you think that what foreigner will respect Cameroon …. We are really the image of our leaders … it's sad and distressing … ", said Jorel Jacques Zang